The exhibitions of Kuzmin's painting in 2017
, and also in 2023, 2022, 2021, 2020, 2019, 2018, 2016, 2015, 2014, 2013, 2012, 2011, 2010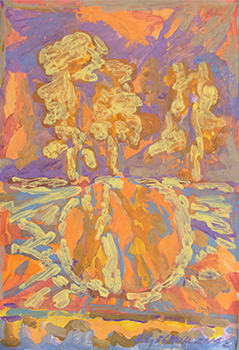 'On the road to Murom'
86 x 61 cm (33.9 x 24.0 inches). 2014
From February 14 to 19, 2017
Paris (F-75008), France
presented a painting by Nikolay Kuzmin.
The preview took place on Tuesday, the 14th of February 2017.
Grand Palais, avenue Winston Churchill, 75008 Paris, France.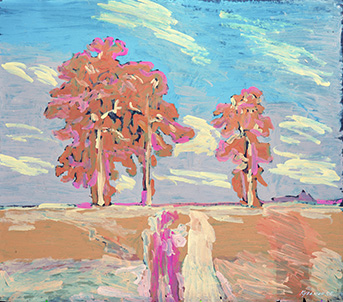 «On the road to Murom
stood three pine trees...».
The light fields and the pine trees.
Acrylic and oil on paper, 103 x 120 cm
(40.6 x 47.2 inches). 2002
From September 22 to October 22, 2017
Viroflay (F-78220) in the Yvelines, France
presented two works by Nikolay Kuzmin.
This year 'Remembering Corot' paid homage to Johan Jongkind's (1819-1891) talent.
The theme of the exhibition was: 'Horizon'.
The preview took place on Thursday, the 21st of September 2017.
À l'Écu de France, 1 rue Robert Cahen (corner 76 avenue du Général Leclerc), 78220 Viroflay, France.
Phone: +33 (0)1 39 07 11 80.
The exhibitions of Kuzmin's painting in 2017, and also in
2023
,
2022
,
2021
,
2020
,
2019
,
2018
,
2016
,
2015
,
2014
,
2013
,
2012
,
2011
,
2010