The exhibitions of Kuzmin's painting in 2015
, and also in 2023, 2022, 2021, 2020, 2019, 2018, 2017, 2016, 2014, 2013, 2012, 2011, 2010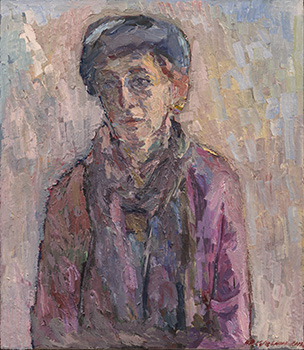 The light of memories.
Oil on canvas, 78 x 67 cm
(30.7 x 26.4 inches). 2013
Since September 19, 2015
Rueil-Malmaison (F-92500) in the Hauts-de-Seine, France
and the preview of the exhibition dedicated to Nikolai Kuzmin took place on Saturday, September 19, 2015. The artist came especially from Moscow.
This exhibition of Nikolai Kuzmin's most recent paintings was his 4th personal exhibition in the gallery.
After October 20 the exhibition is continuing and Nikolai Kuzmin's paintings are presented together with paintings by other artists.
Download the invitation to the exhibition.
Read more about this exhibition event.
Free entrance.
New address of Matthieu Dubuc gallery: 166 avenue Paul Doumer, 92 500 Rueil-Malmaison. Tel: +33 (0)1 47 08 22 16 or +33 (0)6 23 71 51 35. matthieudubuc.com.
New access map to Matthieu Dubuc gallery (48.879493, 2.179158)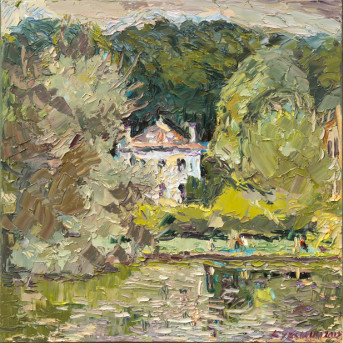 Small house at the ponds of Corot.
Oil on canvas, 58 x 58 cm
(22.8 x 22.8 inches). 2012
Private collection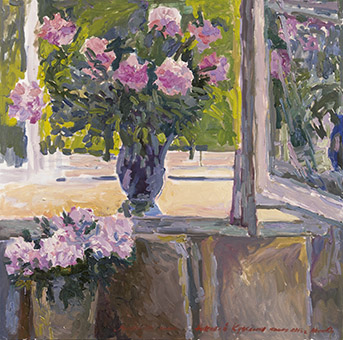 Open window.
Oil on canvas, 100 x 100 cm
(39.4 x 39.4 inches). 2013
From October 10 to November 11, 2015
Viroflay (F-78220) in the Yvelines, France
presented two works by Nikolay Kuzmin.
This year 'Remembering Corot' paid homage to Henri Matisse' (1869-1954) talent.
The theme of the exhibition was: 'Beauté, calme et volupté'.
The preview took place on Thursday, the 15th of October 2015.
À l'Écu de France, 1 rue Robert Cahen (corner 76 avenue du Général Leclerc), 78220 Viroflay, France.
Phone: +33 (0)1 39 07 11 80.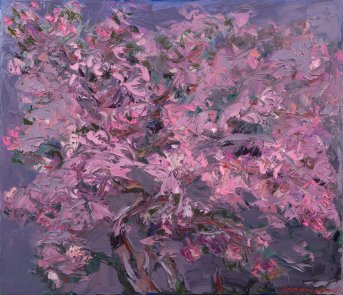 For every one to blossom.
Oil on canvas, 60 х 70 cm
(23.6 x 27.6 inches). 2008
From March 6 to March 8, 2015
Marly-le-Roi (78 160), in the Yvelines, France
'A Week End for the Art' exhibited the works by fifteen painters or sculptors
, including Nikolay Kuzmin's artwork.
The preview took place on Friday, the 6th of March 2015.
The artists or their representatives were present during the whole exhibition.
Community centre of Marly-le-Roi: entrance through Chenil Park, rue de Port Marly, 78160 Marly-le-Roi.
The exhibitions of Kuzmin's painting in 2015, and also in
2023
,
2022
,
2021
,
2020
,
2019
,
2018
,
2017
,
2016
,
2014
,
2013
,
2012
,
2011
,
2010